Global Magnetic Ink Character Recognition (MICR) Devices Market: Snapshot
Magnetic ink character recognition (MICR) technology, deployed to validate the originality or legitimacy of paper documents, specifically checks, has been seeing steady uptake for their ability to facilitate fast and secure document management. End-users such as government, retail, transportation and banking, financial services and insurance (BFSI) are contributing to their demand. They rely on MICR technology for high-quality and cost-effective financial document and check printing.
Dual magnetic reader and hybrid devices are the major recognition technology which is expected to generate demand for magnetic ink character recognition devices over the forecast period. Posing a roadblock to the market, on the other hand, is the steep cost of MICR readers and printers. Emergence and subsequent popularity of digital transactions has also served to crimp demand in the market.
As per a report by Transparency Market Research, the global market for magnetic ink character recognition devices market will likely register a 1.6% CAGR from 2017 to 2025 to become worth US$665.6 mn by 2025.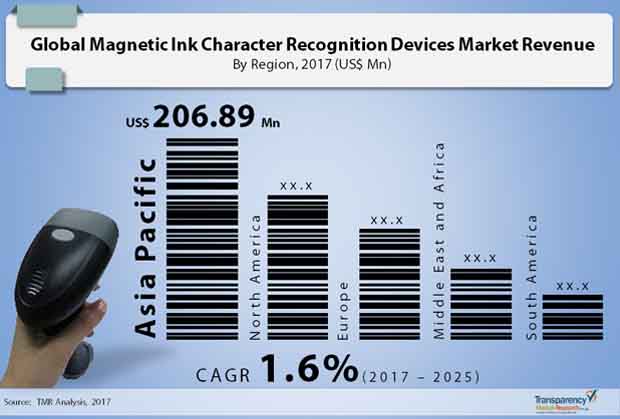 To obtain all-inclusive information on forecast analysis of global market, Request a PDF brochure here
Demand for Secure and Efficient Checks Makes MICR Printing Technology Dominant
Depending upon the type of technology, the global magnetic ink character recognition (MICR) devices market can be broadly segmented into MICR printing and recognition technology. The MICR printing technology can be further divided into ribbon encoding and non-impact MICR printing. The recognition technology can also be divided again into waveform readers, matrix readers, dual magnetic reader, and hybrid device. Of the two, the segment of recognition technology accounted for over 60.0% share in the market in 2016 due to rising demand for secure and efficient check and financial document processing across the industries. The MICR printing segment, on the other hand, is expected to see reduced growth in the next couple of years on account of declining volume of checks as customers adopt more convenient payment methodologies.
Based on end-users, the global magnetic ink character recognition (MICR) devices market can again be divided into government agencies, banks and financial institutes, business organizations, and others including retailers, etc. Of them, government agencies will likely grow at a steady 2.0% CAGR in the forecast period owing to rising usage of MICR technology by them to accelerate documents sorting.